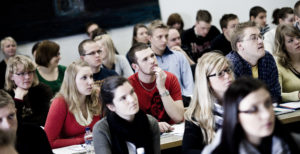 EDISS intends to bring together software engineering educators working in data collection, data-driven assessment, and decision-making for both design- and runtime and software engineers, architects and data scientists working on data pipelines, data architectures,  DataOps and in experimentation systems. We expect that such synergy will lead to sharing knowledge and expertise, and thus create new ideas and impactful solutions. 
EDISS will educate experts who can masterfully integrate data science and ML solutions into software and system engineering processes.
Programme Design
EDISS is a two-year programme (120 ECTS) based on the collaboration between four university partners. Åbo Akademi University is the entry university for all students and in the second year the students will follow their individual mobility path within one of the three specializations provided by EDISS. For each student the choice of the second year institution will be decided, in the second semester of the first year, by the EDISS selection committee based on the student's list of preferences, his or her academic performance and the teaching staff input.
All students completing the EDISS programme will obtain a double master's degree from Åbo Akademi University and the institution chosen for the second-year specialization.
In addition to the mandatory and elective courses offered in the programme, EDISS students will participate in a one-week winter school organized each year during the second semester of the academic year.. The programme also includes a mandatory internship for first-year students with an associate company.
Read more about first year curriculum
Read more about second year specilization
Read more about compulsory internship
Last updated on 14 October 2020