An EDISS bucket list to help you to discover Turku!
As Finland's oldest city and former capital, Turku is brimming with history and activities. It is also the perfect size for students: big enough for you to never get bored, and small enough to make it easy and fast to get around. We have compiled a list of our picks on what to see and do in Turku below.
Aura riverside
You can't miss Turku's old cathedral. Consecrated over 700 years ago, it was originally made of wood but rebuilt with stone after the Great Fire. Nowadays, there is also a small museum inside the cathedral.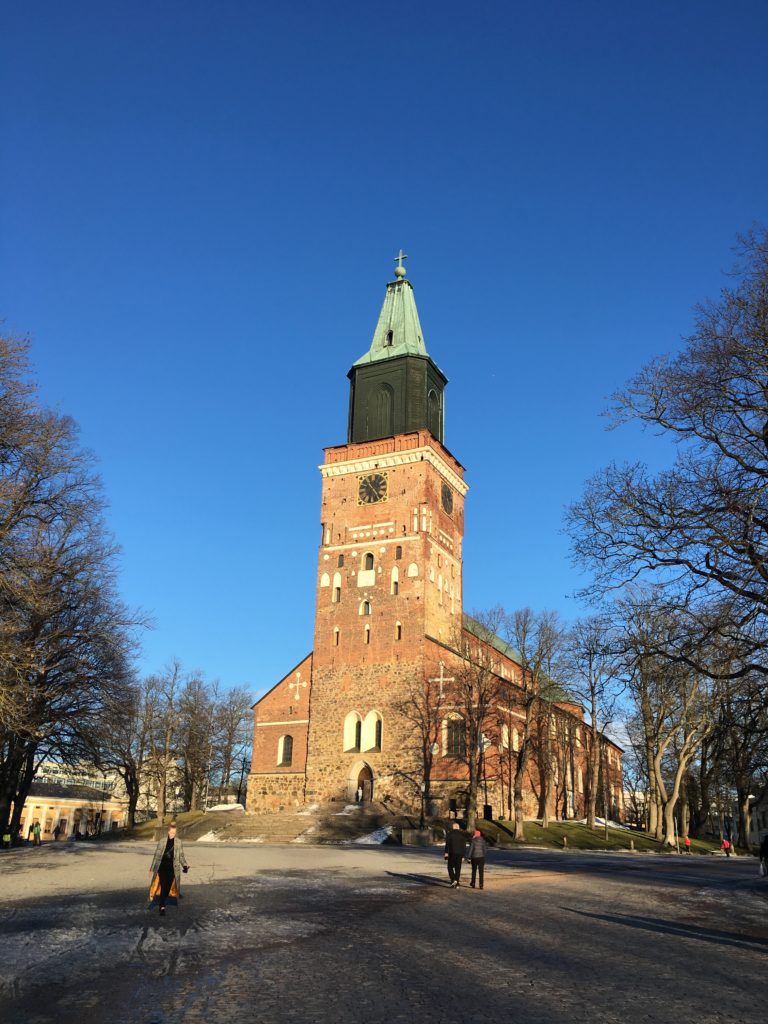 The riverside of the Aura river is also beloved by the locals. Strolling down the river from the church towards the harbor is a great way to relax while admiring the beautiful landscape and buildings. The Theatre bridge is decorated according to seasons and events of the year. The last bridge on the way towards the harbor is the St. Martin's bridge. After this bridge the only way to cross the river is by boat or ferry.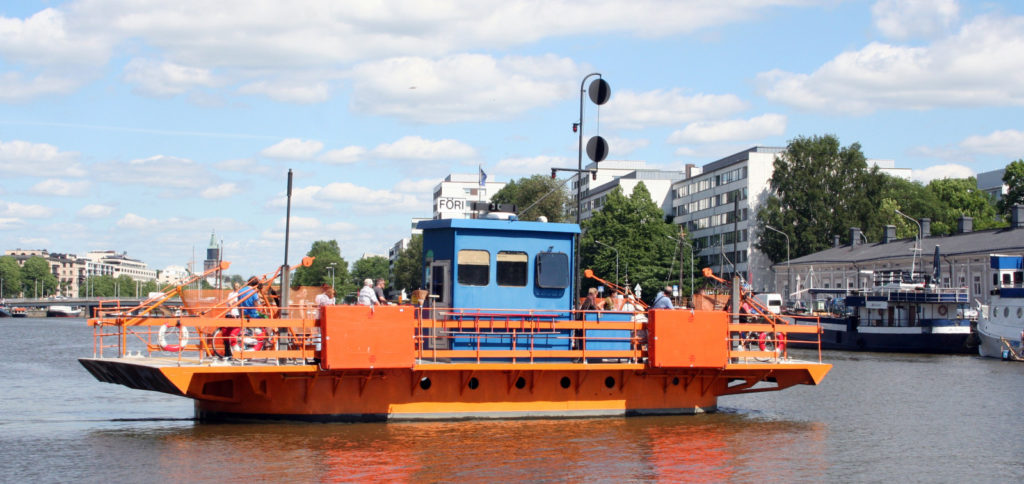 The orange Föri ferry is an iconic part of Turku and a real must-see when in Turku. Föri gives amazing views of the city and crossing the river with it does not cost anything!
Right after Föri, you can continue your way towards Funi, the rather new funicular in Turku! This funicular ride takes you up to the Kakola – an old prison which has been turned to loft apartments making this area the newest and trendiest part of the city. You can also find a souvenir shop, hotel, restaurant, bakery and brewery on the fill. A spa is also currently being built in Kakola!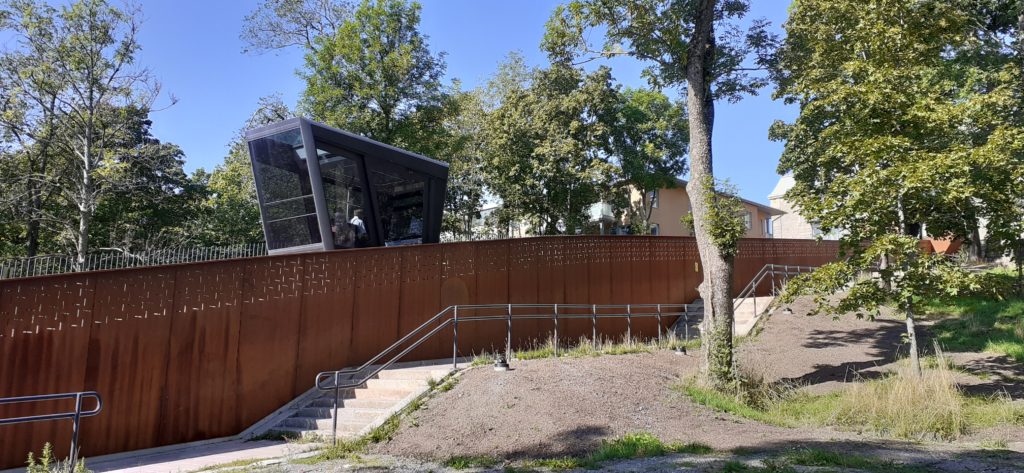 Turku Castle
The Turku Castle is one of the best known attractions in Finland. Equally old as the church, it has seen much of the country's history and was used over the years as a bastion, a prison, an administrative center, for defense and much more. Today, it is a museum and offers several exhibitions. The castle is a must-see sight when in Turku!
Ruissalo
Located in the archipelago, Ruissalo not only offers nice views to the sea, but it also has beautiful oak forests, charming villas and a botanical garden. We recommend taking the Föli water bus (only during the summer time) to Ruissalo and to experience Ruissalo by foot. Ruissalo can also be reached easily by a city bus or by bike.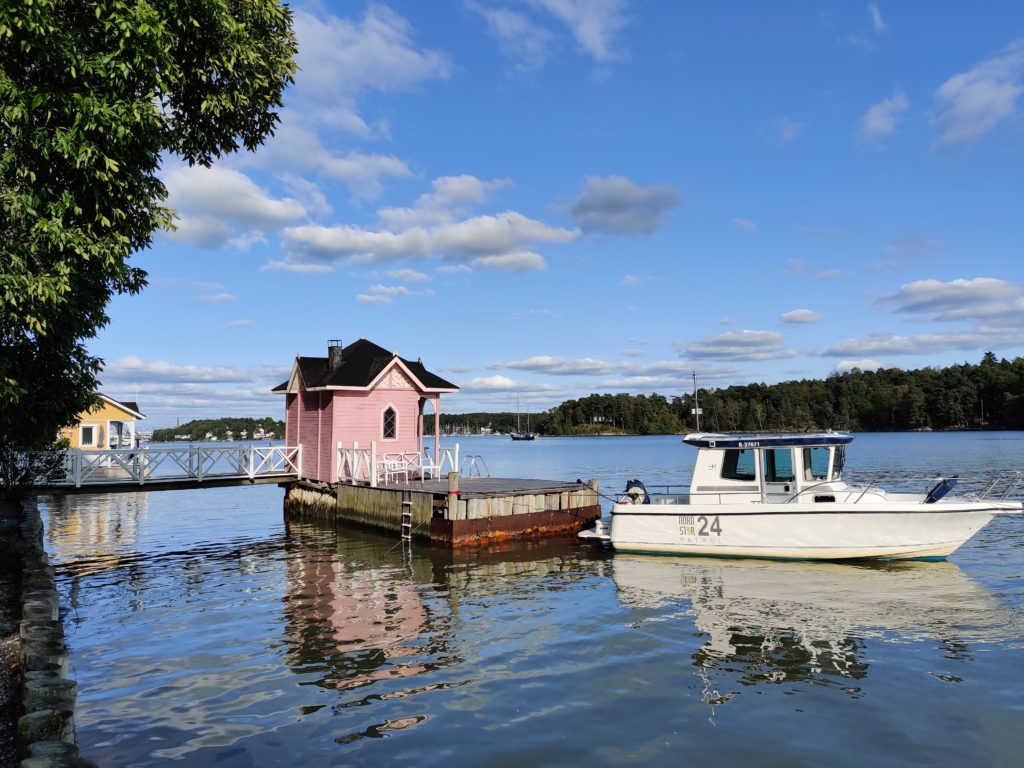 Sauna
You can't visit Finland without trying the sauna. The TYS student accommodation offers free sauna slots, but it can be a good experience as well to visit a public sauna or a traditional smoke sauna. A great place to do sauna is for instance at Villa Järvelä. They have two wood-heated saunas, a tent sauna and an electric sauna. If you are brave enough to try winter swimming, this is a great place to try it as well. The Turku Winter Outdoor Swimmers Club also has a sauna in Ispoinen. When you visit their website, make sure to read also about the benefits of winter swimming!
Culture
In 2011, Turku was the European Capital of Culture, thus there is no shortage of culture in Turku! For art lovers, we recommend Turku's Art Museum and the Wäinö Aaltonen Museum. Both offer a mix of classical and modern art, as well as varied exhibitions. History lovers shouldn't miss the Aboa Vetus & Ars Nova museum. It showcases a unique mix of archaeological history and of contemporary art exhibitions. The Luostarinmäki area is also an important part of the history of the city. It is the only complete wooden area that survived the Great Fire of Turku in 1827. These are only a few examples of the museums that Turku has to offer. Other cultural activities that can be experienced in Turku are for instance visiting the Svenska Teatern (Swedish Theatre), the Turun kaupunginteatteri (Turku City Theatre) or the Turku Philharmonic Orchestra. If you are interested in galleries in Turku, here is also a map of interesting museums and galleries in the city.
Food
Turku is not only Finland's former capital but it is also has a reputation of being a great city for food lovers. The food scene in Turku is broad: you can try traditional Finnish foods and archipelago delicacies, but you can also go to Michelin star restaurants or international restaurants in the city.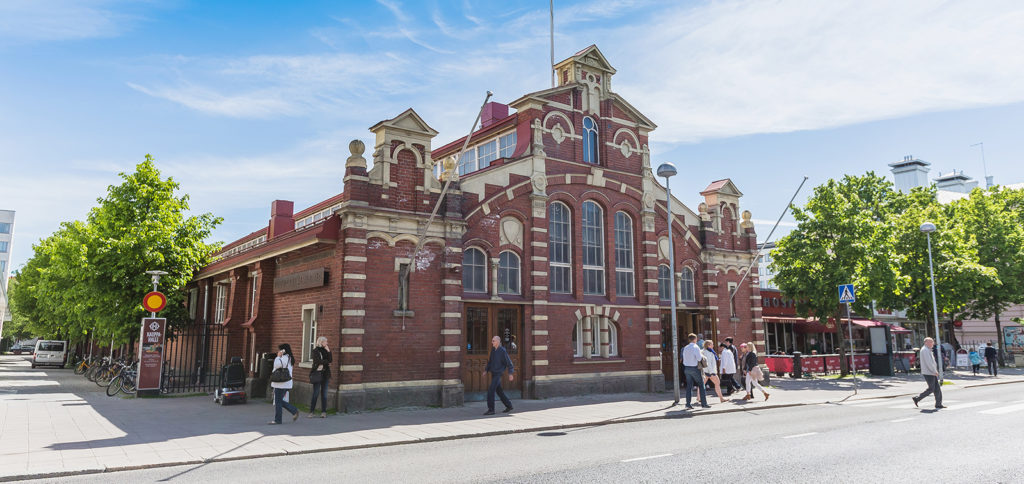 The old market hall is the oldest shopping center in Turku as it dates back to 1896. It is an indoor market hall full of different small restaurants and kiosks. In the market hall you can for instance buy delicious pastries, exotic spices, cheese and freshly caught fish or enjoy a delicious lunch in one of the many restaurants.
A lot of great restaurants, such as Tårget, Hugge, Blanko and Tintå are situated next to the riverside. These restaurants are great places for eating lunch, but they are also open in the evenings.
River boats. There are several river boats in Turku but they mainly serve drinks. Some of the boats are restaurants as well such as Svarte Rudolf, the Boat and Katariina. For a different dining experience, maybe you want to try eating on the river?
If you spend a lot of time watching Netflix, you might have already heard about the Ruissalon Maininki restauraunt. It was highlighted in Netflix's Restaurants on the Edge show. It offers Nordic food with a twist in a beautiful setting.
Outdoors & Sports
Finland is close to nature and even cities have a lot of green areas. Spending time in the archipelago is a fun and traditional summer activity. The scenery is breathtaking. If you are visiting the archipelago, you will go to the nearby towns of Turku. On the following websites you can find information on e.g. biking and hiking trails in the archipelago further away from Turku.
For swimming aficionados, Kupittaa park has a heated outdoor swimming pool. Another option is to go to the Samppalinna Outdoor swimming Stadium which is closer to the city center.
Shopping
Looking to get a gift for your loved ones or for yourself? Then it's time to discover some Finnish design brands, such as Marimekko and Iittala. You can find these products in all the bigger supermarkets such as Prisma and K-Citymarket and in the department store Stockmann. Stockmann has a great selection of clothes for both men and women as well as shoes, accessories and household items. PUF concept store in the city center provides a lot of cool sustainable Finnish design items for every taste. If you are looking for more "traditional" souvenirs, the Turku old market hall has a small shop for souvenirs. If you want to visit shopping malls, there are two in Turku: the Hansa shopping mall (it has a Moomin shop as well!) and the Skanssi shopping mall. For an even larger choice, check out Mylly; the biggest shopping mall in Southern Finland.
We hope that these tips help you to experience Turku (almost) like a local! Enjoy your explorations!